Industrial Flange Manufacturer, Supplier and Stockist in India - Bhansali Steel
Bhansali Steel is a leading Industrial Flange Manufacturer, Supplier and Stockist in India. Bhansali Steel has made a name for itself as a supplier of Industrial Flange in India by providing the best quality products available. We as Industrial Flange Manufacturers has been able to achieve several things because of our many years of experience in this industry, including providing high-quality products, timely delivery of ordered products, regular inspection of material quality, and providing the best available services to our customer's. Bhansali Steel has been in this business since 2004 and has maintained its reputation till today.
We manufacture Industrial Flange in a variety of thicknesses, specifications, grades, and dimensions. Pipe fittings are available to us in Stainless Steel, Nickel Alloy, Duplex Steel, Mild Steel, Inconel, Monel, and other grades, with ASTM, ASME, ANSI, UNS, DIN, and other standards. The materials we use to make Industrial Flange are of the highest quality. The Industrial Flange is manufactured from excellent grades that meet ASTM and/or AISI standards.

Stainless Steel Industrial Flange Manufacturer, Inconel Industrial Flange Supplier, Mild Steel Industrial Flange Exporter, Carbon Steel Industrial Flange Stockist in India
Bhansali Steel is one of the largest Industrial Flange Manufacturers in India. Industrial Flange of the highest quality is in high demand throughout the world. We understand our customer's needs and deliver the best Industrial Flange available. A beautiful appearance, a solid structure, and a smooth surface finish are just a few of the unique features of our products. Throughout the manufacturing, and distribution phases, including raw material acquisition, processing, labeling, packaging, storing, and transportation, Bhansali Steel has a qualified crew that ensures the quality of Industrial Flange, and other commodities. Furthermore, we are a well-known Ring Joint Flange supplier.
The Various types of Industrial Flange we supply are Titanium Industrial Flange, Hastelloy Industrial Flange, Monel Industrial Flange, Nickel Alloy Industrial Flange, Cupro Nickel Industrial Flange, Inconel Industrial Flange, Duplex & Super Duplex Steel Industrial Flange, Copper Industrial Flange, Brass Industrial Flange, Aluminium Industrial Flange, Stainless Steel Industrial Flange, and Mild Steel Industrial Flange. We also customize Industrial Flange as per the customer's requirements.
Industrial Flange - Specifications
Industrial Flange
Specifications
Standards
ANSI, JIS, DIN, EN1092-1, UNI, BS4504, SABS1123, AS2129, GOST-12820
Dimension
ANSI B 16.5, BS 1560. BS 10, IS 6392, B-2.1 NPT, API, DIN, JIS. MSS SP 44
Material
ASTM A105, ASME A105
ASTM A266 GR.1, GR.2, GR.3, GR.4
ASTM A350 LF1, LF2 CL1/CL2, LF3 CL1/CL2
ASTM A694 F42, F46, F48, F50, F52, F56, F60, F65, F70
Class
150#, 300#, 400 #, 600#, 900#, 1500#, and 2500#
Size
1/2" NB TO 24" NB.
Wall Thickness
SCH.10, 20, 30, 40, 80, 120, 160, STD, XS, XXS.
Form
Industrial Flanges – SORF
Copper Industrial Flange Manufacturer, Duplex & Super Duplex Steel Industrial Flange Supplier, Brass Industrial Flange Exporter, Nickel Alloy Industrial Flange Stockist in India
Bhansali Steel performs rigorous toughness, and hardness tests before supplying/exporting/shipping Industrial Flange to our clients. Quality, toughness, hardness, delivery time, quick response, and our services all contribute to our customer's satisfaction. Industrial Flange is used to aid, and control the flow of gases, liquids, and other materials. Industrial Flange is a common form of pipe flange that accepts pipe into the bore/center of the flange for welding around both the pipe's Outer Diameter (OD) and the connection's interior side.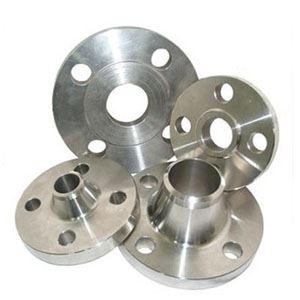 Industrial Flange Manufacturer
Industrial Flange Supplier
Ans: Slip-on flanges are more common in lower-pressure installations, and they're less common when a higher-stress service necessitates a better connection to the piping component. Because it lacks a weld bevel, the slip-on flange is a simple, and excellent alternative to a weld neck, allowing the pipe to be altered in length relative to the flange's position. Call +91 96196 12233 or contact info@bhansalisteels.com if you need a specific size, thickness, or coating on products.
Industrial Flange - Additional Information
Industrial Flange Payment Modes: LC (Letter of Credit), TT (Telegraphic Transfer or Wire Transfer), Cheque, and others.
Industrial Flange Packaging: Industrial Flange are packaged with caution, and safety so they reach our client as well as he would expect. Packaging Charges Extra.
Industrial Flange Port of Dispatch: Mumbai ports in the Maharashtra state of India.
Industrial Flange Tax: 18% GST.